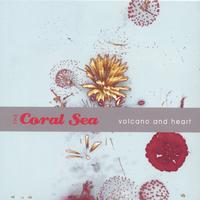 Artist / Band:
THE CORAL SEA
Song (MP3):
LOOK AT HER FACE
Album: Volcano and Heart
File Under: Indie Pop
Label: RedClover
Info: PS, US Soaring debut album from Santa Barbara atmospheric pop outfit. "The art-rock majesty of The Coral Sea emerges breathtaking, it steals from your soul, unsurpassed in this part of the world." Well, The Santa Barbara Independent aint kidding either, The Coral Sea's debut is a hypnotic and mellow dreamrock album that calls to mind classic albums by Bowie, Pink Floyd and The Beatles, with current comparisons ranging from Yo La Tengo's melodic blue-streak zoom-pop to Radiohead's impassioned layered vocal/guitar impressionism.
read more from the source...