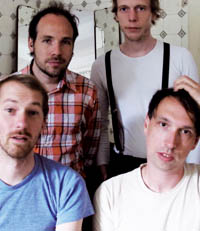 ARTIST / BAND: Like A Stuntman
MP3: Yesterday Euphoria
ALBUM: YOY
FILE UNDER: Indietronic, Krautpop
LABEL: bureau-b
INFO: These four gentlemen play eccentric weird folk electro-kraut-melodic indie rock like you never heard before. Their first release on Bureau B ("Original Bedouin Culture", released 2009) was highly acclaimed by the critics ("krautrock for the post Radiohead generation", see below). The band had raised the bar to dizzying heights on their first album – with "YOY" they have risen even higher.
Like A Stuntman - Yesterday Euphoria by Bureau B
yesterday euphoria from like a stuntman on Vimeo.