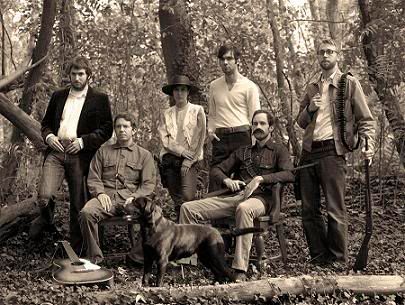 ARTIST / BAND: THE SIX PARTS SEVEN
SONG (MP3): STOLEN MOMENTS
ALBUM: These Friends of Mine
FILE UNDER: Indie / Experimental / Pop
LABEL: http://www.suicidesqueeze.net/

INFO: "The thing about Six Parts Seven is we're fans of music rather than musicians first," explains guitarist/bassist/arranger Allen Karpinski, who - alongside his drumming brother Jay Karpinski, guitarist Tim Gerak and bass guitarist Mike Tolan - makes up the musical core of 6P7. "None of us are trained or anything like that; this band has always been a work in progress and over time we've just gotten better at assimilating all the things we love into the music." Abstractly drawing from mid-90's Touch and Go Records roster, the band have thoroughly recontextualized their influences to create something wholly unique with Casually Smashed To Pieces.While the latest disc formidably features trumpet and clarinet, fans will also recognize it as a return to form to the band's early days as a duo in many ways. "I think a lot of instrumental albums and songs are overly long," Allen admits. "I don't see any point in recording a 68 minute album at this point." In fact, Casually Smashed To Pieces is the band's shortest disc to date, clocking in at just the length of a sitcom (including commercials). "You can listen to the whole thing without being exhausted - and hopefully it'll leave the listener wanting more."However, none of these details would matter if not for what was actually encoded on the disc. Like the soundtrack to a heartbreaking film that never existed, the songs on Casually Smashed To Pieces are simultaneously beautiful and completely unpredictable. "Knock At My Door" features gorgeous guitar chords, layered arrangements and a twangy undercurrent; "Confusing Possibilities" features dueling melodic lines, shifting dynamics and sub-bass tones that transport the band's music into uncharted frequencies; and "Stolen Moments" showcases the singing horns, unorthodox chord voicing and crescendos so gradual you'll wonder how you got from point A to point B.Let's be honest though, instead of mapping out each track for you, you're probably best off putting the disc in your CD player and hearing it for yourself. Because like all great music, there's an element to Casually Smashed To Pieces that can't be conveyed via adjective or analogy. "Our music should be enjoyed , it shouldn't be intellectualized," Allen summarizes more succinctly than this writer ever could. "It can be, I guess, but it should be enjoyed first. Music should just be enjoyed."