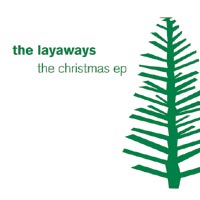 ARTIST / BAND:
THE LAYAWAYS
SONG (MP3):
O CHRISTMAS TREE
ALBUM: CHRISTMAS EP
FILE UNDER: Indie / New Wave / Psychedelic
LABEL:
http://www.mysteryfarm.com/
INFO: What would Nirvana have sounded like fronted by Bjork? What would Judas Priest's new album have sounded like if Rob Halford had read "Tuesdays With Morrie" just before going into the studio? How about Ringo Starr produced by Steve Albini?The Layaways don't sound like any of this. Words that have been tossed around to describe us include understated, dreamy, and blissful--none of which describe the aforementioned hypothetical scenarios (except maybe the Halford thing). We've also been compared to the Jesus and Mary Chain, Guided By Voices, George Harrison, Rain Parade, and the Radio Dept.We're based in Chicago and are currently working on our third disc, slated for a fall 2006 release. Please check out the above tunes (all comments are welcome!) and visit
http://www.thelayaways.com/
for more free downloads.
read more from the source...