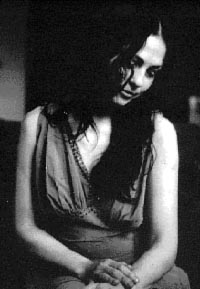 ARTIST / BAND:
LISA GERMANO
SONG (MP3):
TOO MUCH SPACE
ALBUM: In The Maybe World
FILE UNDER: Singer Sonwriter
LABEL:
young god records
INFO: Lisa began releasing her music in the 90's, first on Capitol Records, and then several more albums through 4AD. Perhaps most notable among them were the fantastic Geek, The Girl, and Excerpts From A Love Circus. These records created a very special "antique", lost carnival atmosphere - extremely personal, simultaneously self-effacing and confrontational missives of emotional damage and impossible love. She received a fair amount of acclaim at the time in publications ranging from independent-oriented fanzines and magazines and on to Spin, Rolling Stone, etc. In 2003 Lisa released the absolutely beautiful and wrenching audio journey Lullaby For Liquid Pig, featuring woozy paeans to alcohol, fantasy landscapes and out-of-focus dreams. Her side projects/collaborations include the album OP8 (with Giant Sand and Calexico) in which she is the featured singer, and diverse hired side-person stints with David Bowie, Neil Finn, John Mellencamp, Simple Minds, Iggy Pop, Sheryl Crow and others. As an artist/performer, in my opinion, she's right up there with the cadre of strong, emotionally raw challenging and original women singers such as PJ Harvey, Maryanne Faithful, Cat Power and Bjork, and it's about time Lisa had her due. in the maybe world features some of Lisa's best songs to date. Typically, her (self) production and arrangements are inventive and completely unique, the words cut right to the core and her voice carries you gently off into a world where the distinctions between beauty, loss, love and pain tend to blur. The songs are immediately gratifying and sensual, but are also ultimately complicated and reward repeated listening. I hope you enjoy the music ! - Michael Gira/Young God Records
read more from the source...